Stone catcher LK
Separation of heavy particles from sugar beet during sugar beet transportation to the sugar factory.
The rolling perforated drum is located in the transport manger where the sugar beet flows together with water.
The basic technical parameters:
This equipment is projected according to costumer's request to measure
regarding daily beet processing 2,000 – 10,000 t.
More than 99 % separation of heavy particles.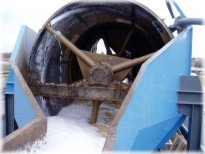 © VUC Praha, a.s.